English
•
BDT
•
Bangladesh
How do I know If an Item is Under Clearance Sale?
You will identify if an item is under Clearance Sale as the Icon will show beside the items price.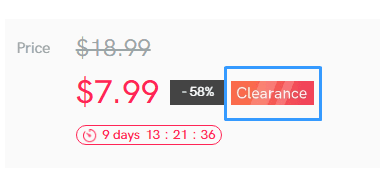 NOTE: If you don't receive our Customer Service team's response for an extended period of time (24 hours on weekdays, 48 hours on weekend), please check your Contact email's Spam folder. Our emails may have been filtered incorrectly by your email server/provider.

Related Links:
1. What is your Return Policy?
2. What is your Refund Policy?
3. What items can't be returned?
4. How long is the Processing Time for Refund?
5. I've Sent Emails but Did Not Receive a Response.

Was this article helpful?